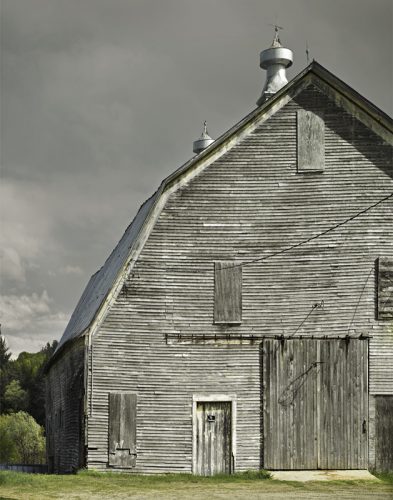 Tillotson Farm 3 
18″ x 24″ – Pigment Print (1 of 50) – $750
My work is an unfolding narrative of Vermont's landscape. Panoramic vistas dotted with aging structures that rest in timeless harmony with the natural and man-altered terrain they share. Fading shelters succumbing to the elements as they slowly fold into the soil from which they were built upon… says photographer Jim Westphalen. This exhibit features stunning new works in his ongoing exploration of Vermont's decaying structures. Beautiful and ethereal, these images are a simultaneously tangible and ghost-like reminder–and certainly a celebration– of the past and present state of these structures, and have us thinking about their future.
While heartbreaking to watch these icons vanish, this is also a story of hope. For amongst the decay, there are also success stories of rebirth. I am personally grateful for those individuals and organizations who go to great lengths and expense to save, repair and restore these old beauties. Some of the images you see here celebrate these efforts.
Join us from 5-7pm this Thursday, September 8th for Jim's Opening Reception. Enjoy live music, light refreshments and the company of fellow art enthusiasts.
To view Jim's work CLICK HERE and to read more about Jim, please view our ARTICLE