01octAll Day15novAutumn Solos at the FallsOn View this October(All Day) Edgewater Gallery at Middlebury Falls - 1 Mill Street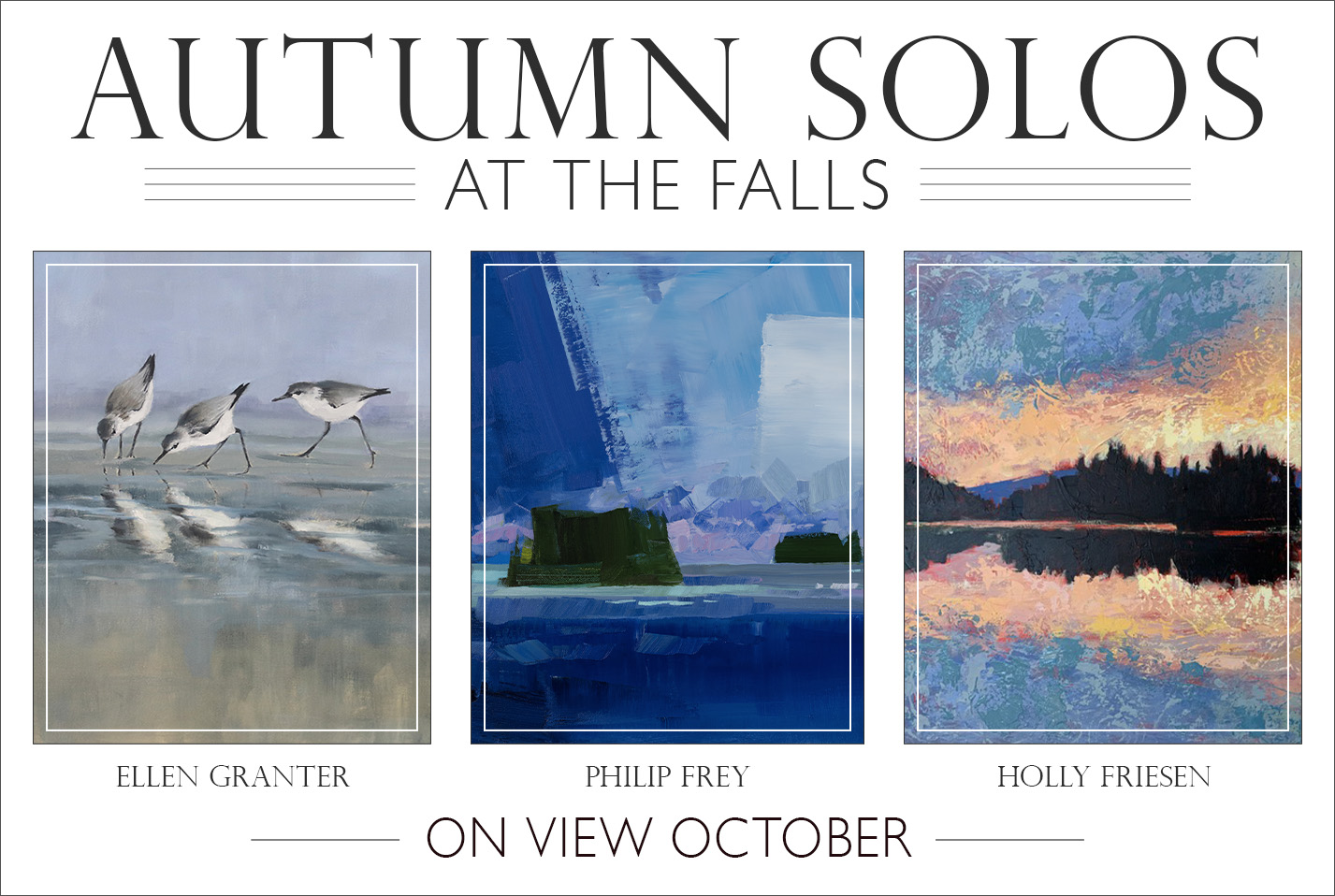 Event Details
As the season changes from summer to fall and we welcome Vermont's spectacular display of fall foliage, Edgewater Gallery celebrates with our October exhibitions called "Autumn Solos at the Falls" and "Autumn Solos On the Green."
"Autumn Solos At The Falls" will feature the work of artists Philip Frey, Holly Friesen, and Ellen Granter. Each of the three artists has created a new body of work for Edgewater that will be on view through the end of October.
Philip Frey was born in Portland Maine and is a graduate of Syracuse University. He maintains a full time studio in the woods, on the coast of Downeast Maine. Frey's primary focus in his painting is light, color and form and his immediate observations of these elements in the landscape and in interior spaces. He prefers broad, intentional brush strokes, creates bold planes of color and experiments with unexpected shades in his work.
Montreal based painter, Holly Friesen finds her inspiration in the wilderness of Quebec, northern New York State and Vermont. Her passion for her subject matter is evidenced through her energetic and varied brushwork, her bold underpainting, rich palette and thoughtful landscape compositions. Friesen's connectedness to the earth is deep and she expresses a hope that we can learn to coexist with and protect our open spaces rather than destroy them.
Ellen Granter is a long established Edgewater artist who expresses her appreciation and affection for the beauty of the New England coastline and the birds and creatures who inhabit this landscape, through her serene and graceful paintings. Granter was born in New York City and attended college at the University of Vermont. After studying Chinese and Chinese history in Hong Kong, Beijing, and Middlebury College, she earned a Master's in Chinese history from The University of Vermont. She now has her studio in Newburyport, Massachusetts where she can easily access the coastal regions of New England and its varied and rich population of wildlife. Ellen Granter captures the quiet beauty of the coast or the charm and character of a bird through subtle shifting planes of color interspersed with detailed brushwork and occasional areas of gold leaf.
We are pleased to have our gallery doors open and to be able to invite our customers to see this exhibition in person! 
We recognize however, that this is still a time to be cautious and to follow current health guidelines, and so though we are open for business, we will continue to offer our exhibitions virtually at 
www.edgewatergallery.com
.
Time

October 1 (Thursday) - November 15 (Sunday)
Location

Edgewater Gallery at Middlebury Falls - 1 Mill Street

1 Mill Street Middlebury, Vt 05753
Organizer
Edgewater Gallery802.989.7419