01augAll Day30sepElements: Constructed/DeconstructedOn View this August and September(All Day) Edgewater Gallery on the Green - 6 merchants row middlebury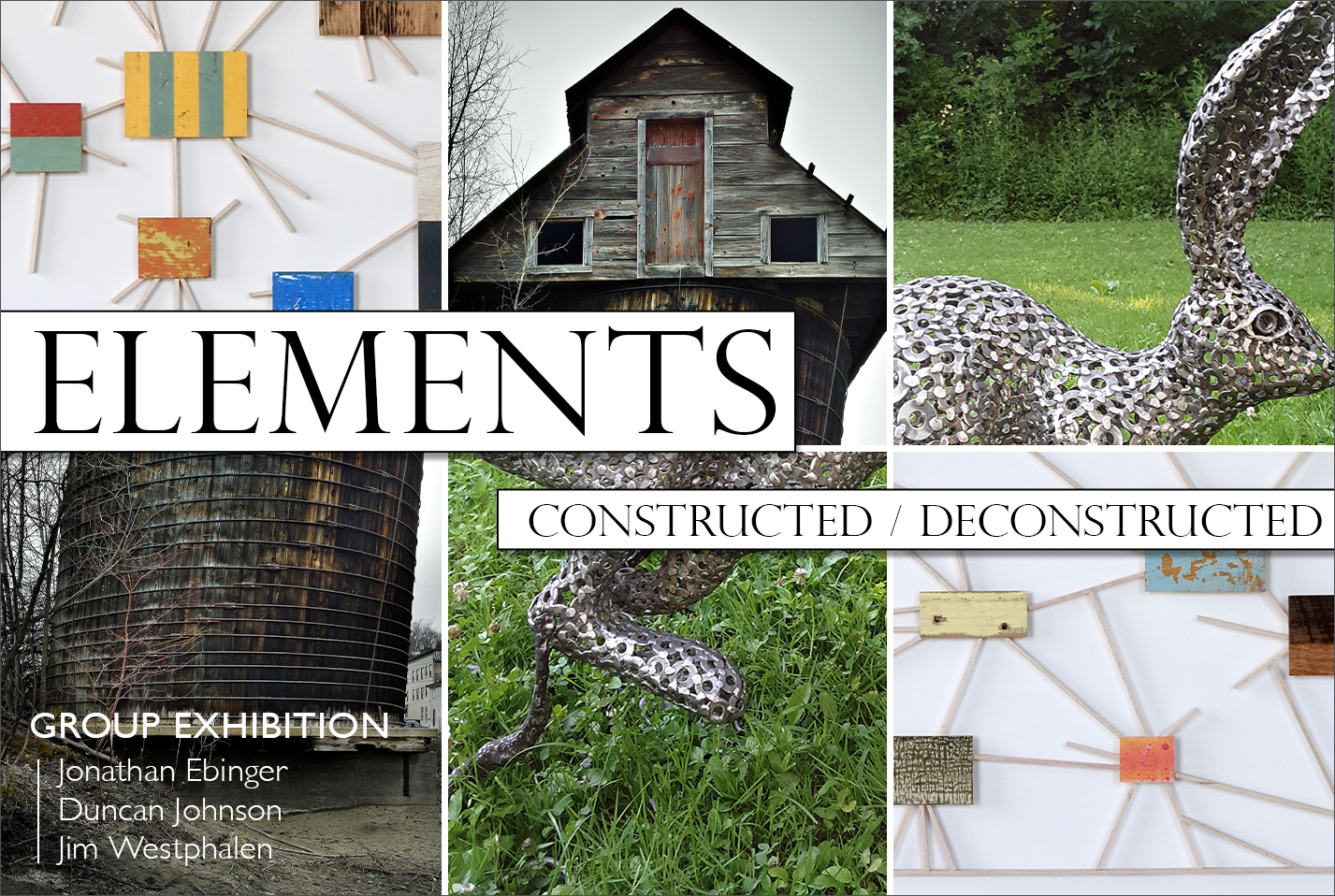 Event Details

On view for the months of August and September at Edgewater Gallery on the Green, "Elements:Constructed/Deconstructed", a group exhibition featuring the work of Jonathan Ebinger, Duncan Johnson and Jim Westphalen. Art imitates life and life imitates art as the three artists explore the themes of building and taking apart structural elements, along with chronicling the disintegration of architectural structures in our landscape. These themes are echoed outside the gallery windows as we witness the height of the bridge construction project in downtown Middlebury.

Each of the three artists featured in this exhibition works in a different medium, and all three are highly skilled in using their chosen medium to create their art and convey their ideas.  Materials used, process, and construction are important in the work.  Jonathan Ebinger builds his animal sculptures from steel washers and hex nuts, welded together to form creatures who appear to have been caught mid-motion. The juxtaposition of materials and the finished sculpture is extraordinary. The rigid materials come together to form an animal that seems to live and breathe. Duncan Johnson crafts his wall sculptures from reclaimed wood that is carefully prepared, cut and fitted. His skill as a woodworker means that he can create intricate wall pieces that play with light, shadow, layering and patterning. Even the nails used in the construction of each piece become important subtle elements. Photographer Jim Westphalen has developed a technique for capturing his desired subject that involves taking multiple images of a single structure or scene and stitching the images together to create a highly realistic and impactful print. His collection for "Elements: Constructed/Deconstructed" honors the historic and venerable structures that exist along the highways and byways of Vermont. Some are preserved and intact, some are decaying. All are dramatically portrayed in Westphalen's group of photographs.

Our galleries in Middlebury are open and we invite you to see this exhibition in person. 

We recognize however, that this is still a time to be cautious and to follow current health guidelines, and so though we are open for business, we will continue to offer our exhibitions virtually at 

www.edgewatergallery.com

.

For more information about "Elements: Constructed/Deconstructed", visit or call the gallery at 802-989-7419 or email us at 

[email protected]

.
Time

August 1 (Saturday) - September 30 (Wednesday)
Location

Edgewater Gallery on the Green - 6 merchants row middlebury
Organizer
Edgewater Gallery802.989.7419