27sepAll Day08novFragile FamiliarSeptember 27th - November 8th, 2022(All Day) Edgewater Gallery on the Green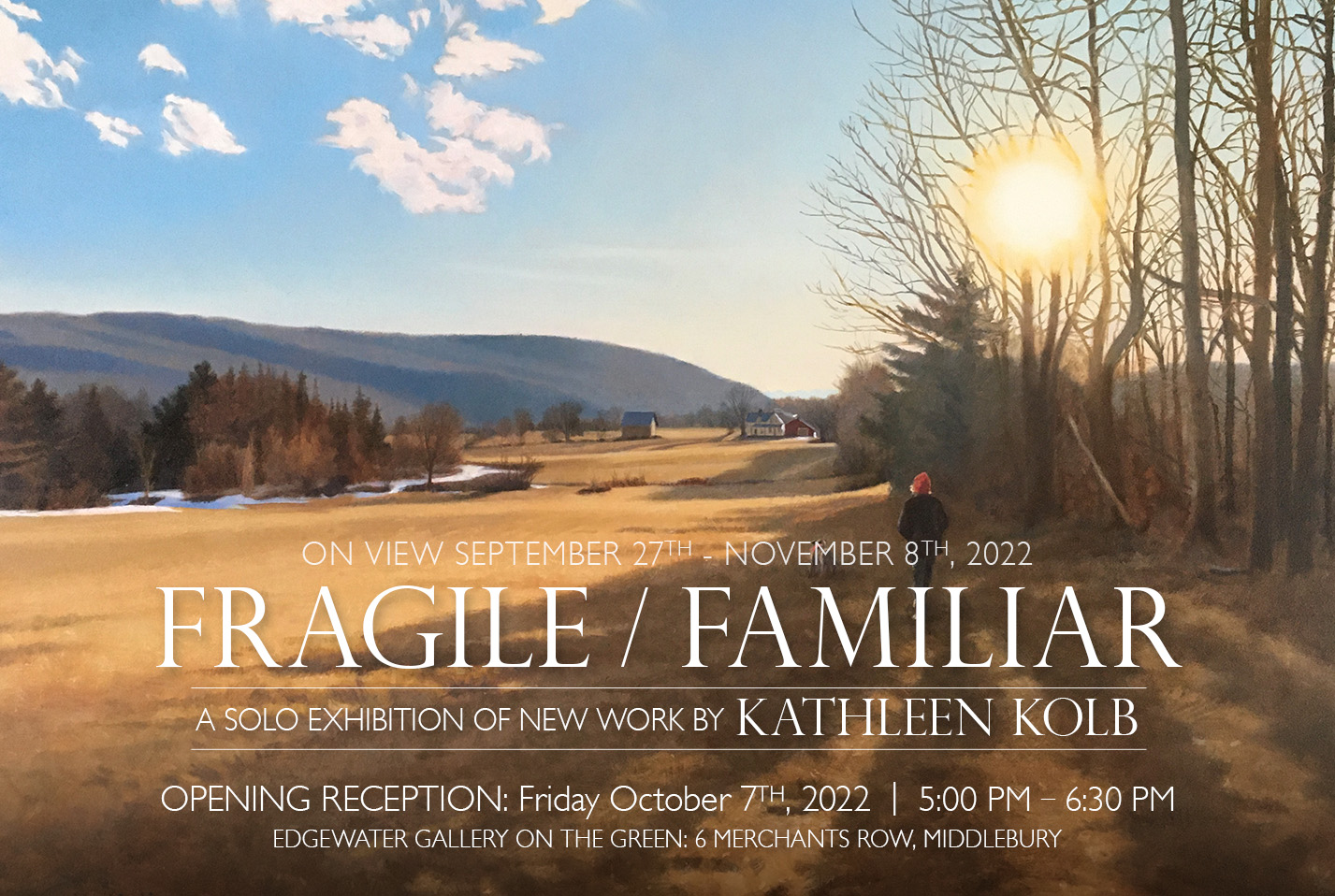 Event Details

On view September 27 – November 8, 2022
FRAGILE / FAMILIAR

A solo exhibition featuring

Kathleen Kolb
OPENING RECEPTION:
Friday October 7th, 2022
5:00PM – 6:30PM
Edgewater Gallery on the Green
6 Merchants Row, Middlebury
Contemporary Realist painter Kathleen Kolb presents a new collection of paintings in "Fragile/Familiar, that embody her study of light, exploration of our sense of place and community, and her relationship with the specific landscape of working Vermont. Kolb's honest portrayal of the architecture and landscape of our state, highlight their austere and quiet beauty. Through an intimate understanding of this landscape that has come after years of observing, sketching and photographing, Kathleen Kolb takes us on a journey into her place where we can experience the beauty of the light and land as the day progresses or a season unfolds.
Throughout my career my work has circled around light and attachment. Light allows us to see, and to perceive time. It changes constantly, inevitably. Attachment connects us to each other and our places, showing us where, and with whom, we belong.
The people and places we love, our own bodies, the landscape and planet are both fragile and resilient. The new pieces here have been made during the Covid 19 pandemic, a time of great human vulnerability. Some of this work is about our not knowing, about an obscure shore. The work also inherently references the experience of isolation we've shared during this time. Some of this work is also a reflection on the human-built landscape, which is passing, and which embodies the qualities of community, home and human effort that are essential, if ephemoral, to us.
– Kathleen Kolb
Edgewater Gallery will also introduce, in this exhibition, a group of recently acquired paintings done in the mid 2000s by Kathleen Kolb. Though the subject matter is Vermont they have never been exhibited here. These works give context to the artist's lasting fascination with the particular contours, palette, and architecture of the state and to Kolb's kinship with the way of life here.
Kathleen Kolb graduated with a Bachelor of Fine arts from The Rhode Island School of Design. Her career as a painter is distinguished by over forty solo exhibitions, and ninety group shows, including those at The Shelburne Museum, Vermont, The New Britain Museum of Art, Connecticut, The Butler Institute of Art, Ohio, The Fleming Museum, Vermont and the Ballinglen Museum of Art, Ireland. She honored Vermont's Working landscape in the ambitious traveling exhibition "Shedding Light on the Working Forest" and addressed issues of Vermont's values and hopes for the future in Art of Action, another year long traveling show. Kolb has been included in numerous publications such as American Artist, Art New England, and Vermont Life.
For more information about "Fragile/Familiar", call the gallery at 802-989-7419 or email us at [email protected].
Time

September 27 (Tuesday) - November 8 (Tuesday)
Location

Edgewater Gallery on the Green

6 merchants row middlebury, vt 05753
Organizer
Edgewater Gallery802.989.7419