01junAll Day31julReflections: Group ExhibitionOn View this June and July(All Day) Edgewater Gallery on the Green - 6 merchants row middlebury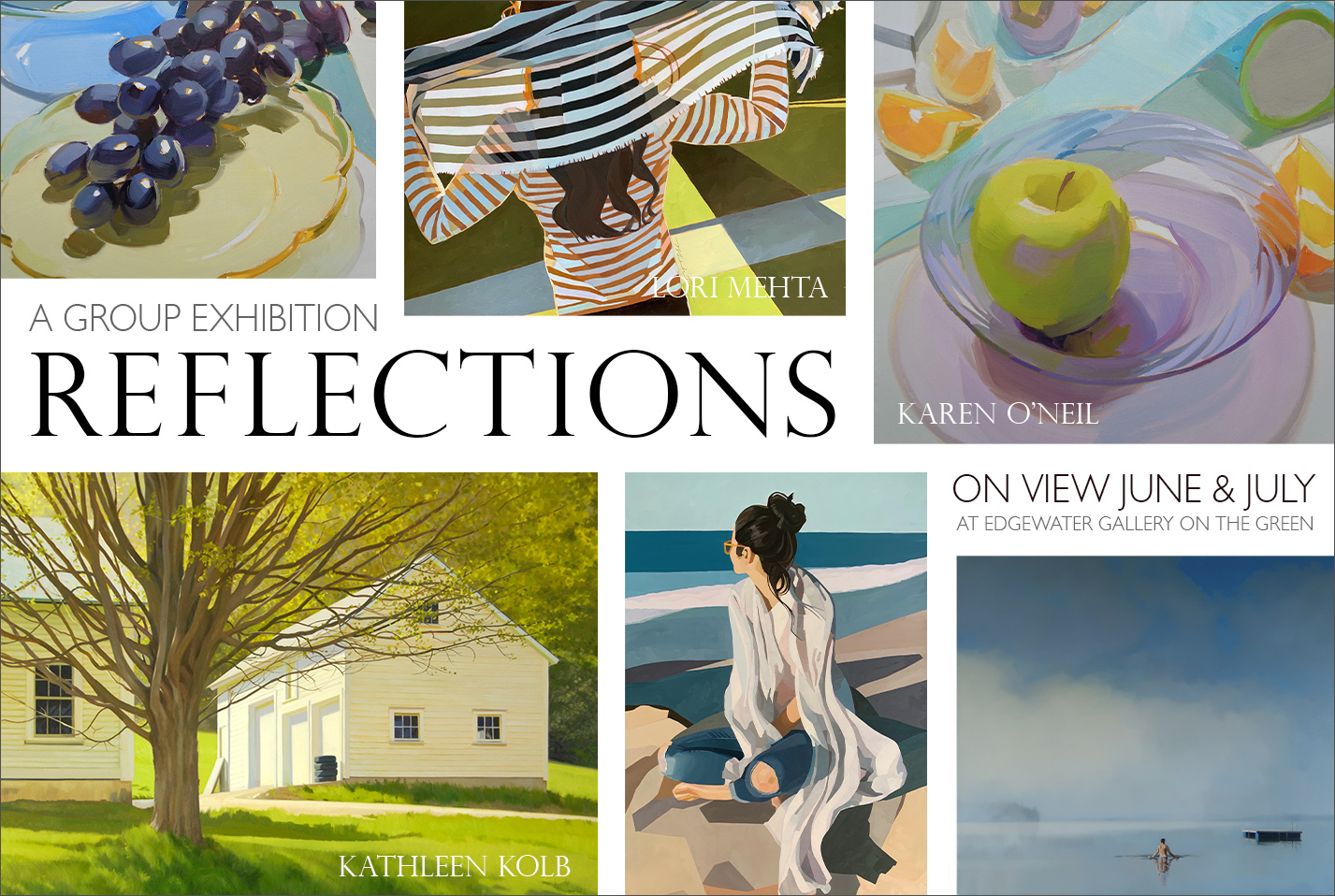 Event Details

Edgewater Gallery On The Green presents "Reflections", a group exhibition featuring the work of artists Kathleen Kolb, Lori Mehta and Karen O'Neil, on view for the months of June and July.

The use and study of reflections is an important element in each of the artist's collections, featured in this exhibition. Light reflects off colored glass in Karen O'Neil's still life paintings, or off the water in Vermont landscape painter Kathleen Kolb's serene lake scene, or it is portrayed in a bold graphic style in Lori Mehta's figures.

It is important to note also, that the work for this show was created during the height of the COVID-19 crisis and that the three artists found that the theme of "Reflections" took on meaning beyond the physical nature of light bouncing back off an object. All three women were impacted by the weight of creating art during this unprecedented time and found themselves meditating, or reflecting on, what it meant to make art in this new reality. Art can serve as a refuge from what's happening around us, or it can be a mirror of the outside world. Kolb, Mehta and O'Neil each felt the challenge of painting and persevering in this strange new era.

We are pleased to have been able to reopen our gallery doors and to be able to invite our customers to see this exhibition in person! We recognize however, that this is still a time to be cautious and to follow current health guidelines, and so though we are open for business, we will continue to offer our exhibitions virtually at www.edgewatergallery.com.

For more information on "Reflections", a group exhibition featuring artists Kathleen Kolb, Lori Mehta and Karen O'Neil, visit or call the gallery at 802-989-7419, or email us at [email protected].

To view Kathleen Kolb's work click here.
To view Lori Mehta's work click here.
To view Karen O'Neil's work click here.
Time

June 1 (Monday) - July 31 (Friday)
Location

Edgewater Gallery on the Green - 6 merchants row middlebury
Organizer
Edgewater Gallery802.989.7419