01junAll Day31julSummer Solos at the FallsOn View this June & July(All Day) Edgewater Gallery at Middlebury Falls - 1 Mill Street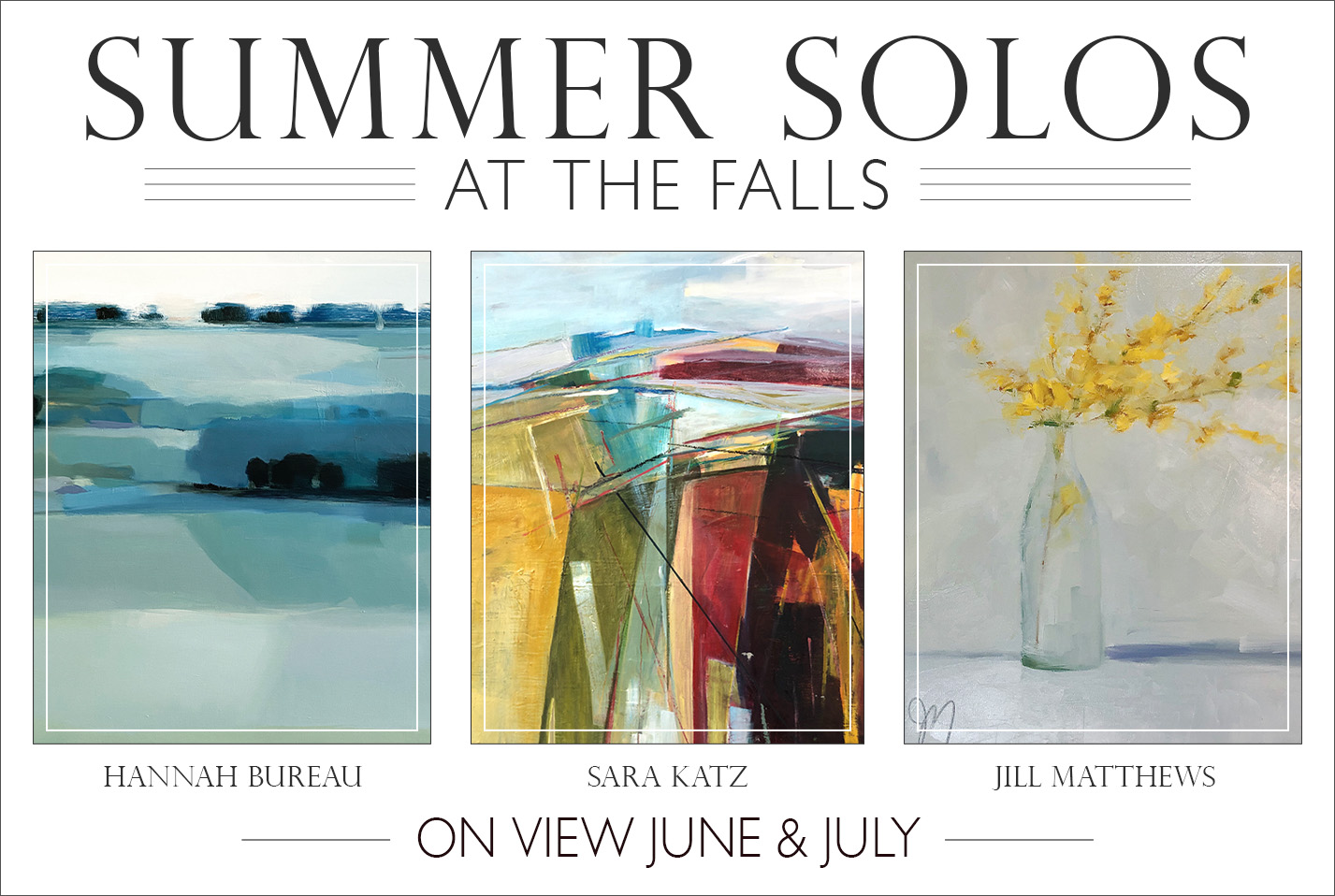 Event Details

On view for the months of June and July at Edgewater Gallery at the Falls, "Summer Solos At the Falls", New Collections from Hannah Bureau, Sara Katz and Jill Matthews.

Edgewater presents new collections from three of our established artists in these simultaneous solo exhibitions at our Gallery at the Falls.

Hannah Bureau's paintings are landscapes that incorporate some of the traditional practices of landscape painting but become much more complex as the artist works with elements of abstraction and evokes a familiar world but also one with spatial ambiguity, and depth in the visual plains. Her compositions become layers of  geometric shapes, piled up and intersecting.

Sara Katz has her studio in North Ferrisburgh Vermont. Her work combines a connection to the natural world and the man made one, with her interest in more abstract principles of art making. Katz works on multiple pieces at one time in a variety of mediums including paint, graphite, pastel, and colored pencil, editing as she goes and working with an energy that is transferred to the work. The landscape is a jumping off point but her paintings become dynamic perspectives of bold color, line work and movement.

Jill Matthews studied fine art at the University of Vermont and went on to have an early career as an art educator. After realizing that her passion was for making art rather than teaching others about it, she focused on painting and began her studio practice. Matthews' collection for Edgewater is a series of still life paintings of flowers in crisp, vibrant colors, set against quiet and texturally interesting, backdrops of muted tones. The artist most enjoys going beyond the literal representation of her subject to allow room for interpretation, emotion, and experimentation in her painting.

We are pleased to have been able to reopen our gallery doors and to be able to invite our customers to see this exhibition in person! We recognize however, that this is still a time to be cautious and follow current health guidelines, and so though we are open for business, we will continue to offer our exhibitions virtually. Watch for the virtual exhibition of "Summer Solos at the Falls" on our website in early June.

For more information on "Summer Solos at the Falls", visit or call the gallery at 802-458-0098, or email us at

info@edgewatergallery-vt.com

.
Time

June 1 (Monday) - July 31 (Friday)
Location

Edgewater Gallery at Middlebury Falls - 1 Mill Street

1 Mill Street Middlebury, Vt 05753
Organizer
Edgewater Gallery802.989.7419